All you know already, HSC admission for 2013-2014 academic session will begin on May 18 and continue till June 06, 2013  across the country. The admission candidates have to apply colleges via send SMS from Teletalk mobile phone to a certain number.
The list of the eligible candidates will be published on June 16 and the classes will begin on July 1, 2013.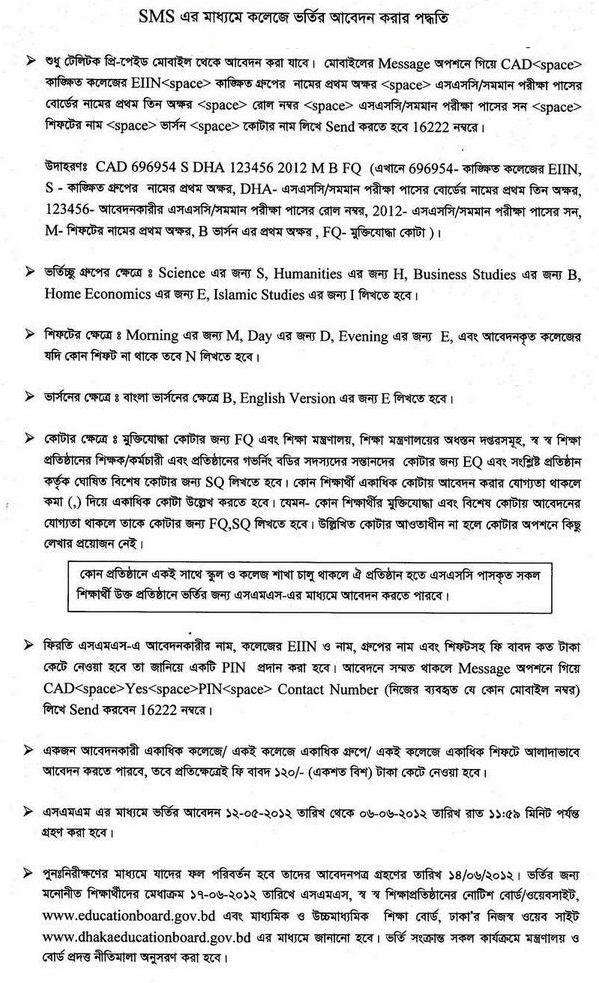 How to apply HSC admission?
Go to your Mobile SMS option (Must be taletalk Sim) and follow the instractions:
CAD <space> College EIIN code <space> First Letter of diser group <space> First three letter of you board <space> SSSC roll <space> Passing year <space> Name of desire shift <space> version <space> Quota and sent to 16222
After successfully completed application, You will get an return SMS with PIN number. And you will get payment information also.
(Board names: DHA=Dhaka, BAR=Barisl, COM=Comilla,  RAJ=Rajshahi, CHI=Chittagong, JES=Jessore, SYL=Sylhet, Din=Dinajpud, MAD=Madrasha, TEC=Technical)
How to Pay?
CAD<space>YES<space>PIN Number<space>Contact Number and sent to 16222
With Return confirmation SMS, You will get Candidate name and Trac Number.
One applicant can separately apply for:
More than one college
Several groups in same college
Several shifts in same college
In that Case, the applicant will be charged 120 Taka (One hundred Twenty Taka) for each SMS application.
Keep in mind:
Application Time/ Time for SMS: 18 May 2013 to 06 June 2013
Date of publication of selected candidates list: 16 June 2013
Last date of admission without Delay: 30 June 2013
Admission with Delay Fine and DD: 11 July 2013
Class of first year starts: 01 July 2013
Last date of Change of Group or Subject by College: 05 September 2013
College Wise EIIN Codes for HSC Admission